Join the Carolinas Organized Retail Crime Alliance at its 5th Annual CORCA Conference. To be held on Thursday, September 30, 2021 in Myrtle Beach, South Carolina, CORCA will have presentations on some of the most timely and important issues in loss prevention today. This outstanding event hosts retailers and law enforcement from both North and South Carolina in an effort to expand networks and build education. Register today!
Conference Schedule
Wednesday, September 29
5:30 pm – 7:30 pm: Welcome Reception
Network over light hor d'oeuvres and drinks.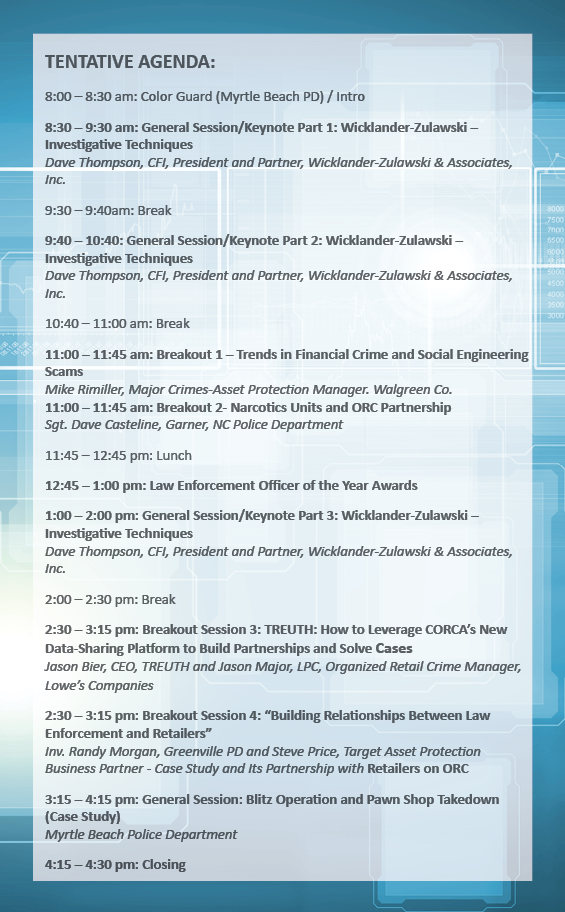 Registration
Register today with CORCA's Early Bird Rates!
CORCA Retail Member: $59 ($79 after August 31)
Retail Non-Member: $109 ($139 after August 31)
Law Enforcement: $15 ($20 after August 31)
Registration includes full access to the conference, breakfast and lunch, and an invitation to the Welcome Reception on September 29.
Hotel Reservations
CORCA has secured a block of rooms at the Sheraton Myrtle Beach at a rate of $115-$125 per night.
To book over the phone, call 888-627-8203 and mention you are with the CORCA Conference. For more information about the Sheraton Myrtle Beach, click here.
Sponsors and Vendors
CORCA Vendors and Sponsors are integral to the success of CORCA's annual conference. We offer a wide range of opportunities for vendors and sponsors to engage and show support for CORCA and its membership. Vendors are able to host a table in the vendor hall, situated right outside of the conference rooms. We also offer vendors the opportunity to engage at the annual Welcome Reception, this year held on Wednesday, September 29 at the Sheraton Myrtle Beach!
Click here for more information.
Questions?
Contact CORCA staff at (919) 832-0811 or corca@ncrma.org.